Come out and join us at one of many cigar tasting events. 
We'd love to meet you, enjoy a premium cigar together, and share your reflections on our cigar blends.
Pueblo's Annual Chile & Frijoles Festival is a Must Attend Event - September 22nd - 24th - Pueblo, CO
The 29th Annual Chile & Frijoles Festival is being planned in full force!
The Chile and Frijole Festival was created to promote Pueblo's rich agriculture and encourage our community, and region, to buy local fresh products at any of the numerous farm stands and speciality shops available during the festival and year-round. The event features live entertainment, street vendors, cooking competitions, and chiles, chiles, chiles! Held downtown along Union Avenue, the festival draws Pueblo residents as well as people from across the state and around the nation.    
Come out and meet the Sagrado Cigar team. Enjoy good friends, good food, and a really good time! Hope to see you there.
Cigar Tasting Event at Bernie's Bungalow with 5th Avenue Cigars - September 9th, 2023 - Anchorage, AK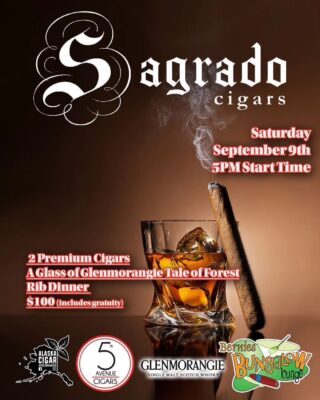 Our return to 5th Avenue Cigars & Bernie's Bungalow was even more exciting the last visit. A sold out tasting event with wonderful cigar aficionados from through out Alaska. Enjoyed the friends, food, drink, conversation, and of course the Sagrado Cigars.
The Brown Jug & The Sisters Of The Leaf - September 8th, 2023 - Anchorage, AK
Ladies, join Brown Jug and @sotlglobalmovement in welcoming Canada's first Female Cigar Sommelier Tobacconist, Natalie Simms, @cigar.nerd, to Alaska! Natalie will introduce Sagrado Cigars' "Lilith", crafted and designed with you in mind! 
Rocky Mountain Cigar Festival - August 26th, 2023 - Broomfield, CO
Ladies,The Rocky Mountain Cigar Festival is located in the heart of the Colorado Rocky Mountain Front Range. The 2023 RMCF will be returning to the world-renowned Interlocken Resort in Broomfield Colorado on August 26th! The festival attracts consumers that are geared toward premium high-end product – including premium cigars, hand-crafted brews, unique wine and spirits, excellent food and everything encompassing the finer things in life.
Rocky Mountain Cigar Show - August 17th, 2023 - Podcast - CO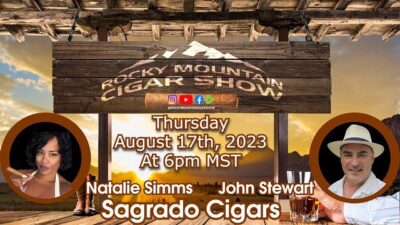 LETS #PSSITA this weekend! Meet me at Ambassador Fine Cigars on Sunday, August 5th at 5pm. The SOTL Global Movement and I will be in the building for this SMG Social. So come out, mix, mingle and have a smoke or three with us and let's talk Cigars! – Natalie Simms, Brand Ambassador, Sagrado Cigars, Manitoba, Canada
Sisters Of The Leaf & Sagrado Cigars Together - August 5th, 2023 - Peoria, AZ
505 Cigar Review Podcast - July 31st, 2023 - Podcast
Shadow Warriors Project Fundraiser & Cigar Tasting Event - July 21st, 2023 - Idledale, CO - Dunafon Castle
An amazing evening of great food & drink, wonderful people, conversations and all to support an important and worth while cause, The Shadow Warriors Project. An eventful nigh tasting a variety of amazing cigars.

Sagrado Cigars was honored to donate a sample pack of all our blends to each attendee to sample and enjoy.
PCA Convention - July 7th - 11th, 2023 - Las Vegas, NV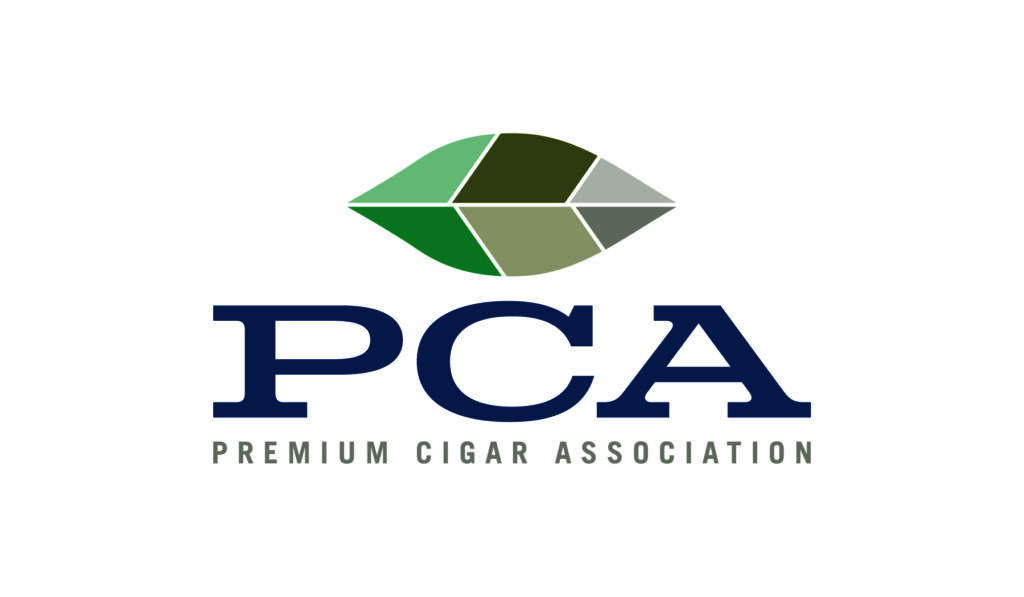 Sagrado Cigars attended the PCA Convention this July an amazing time was had by all. we met so many beautiful cigar-loving brands, attendees, and patrons. So much to share and be shared by cigar professionals and aficionado from around the world. We'll see you there next year!
Cigar Tasting Event at Bernie's Bungalow with 5th Avenue Cigars - June 28th, 2023 - Anchorage, AK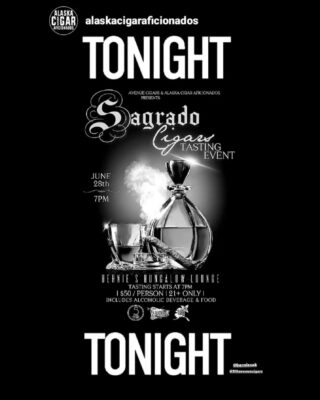 Thank you Anchorage, Alaska – 5th Avenue Cigars & Bernie's Bungalow. We truly appreciate the effort and support you provide Sagrado Cigars during our tasting event. You go above and beyond and we appreciate you. Wonderful time was had by all!